WhatsApp Business & Salesforce Integration
|
June 22, 2020
Communicate over the world's most used chat app with BeCloud Solutions as your Solution Provider of WhatsApp Business Account and messages traffic rates
As a Whatsapp service Solution Provider, BeCloud Solutions is able to integrate Whatsapp for Business and to route Whatsapp messages into Salesforce pages and objects. Be360°, part of the BeCloud Solutions offer, is the next generation integration platform (iPaaS) that allows the integration of differentCloud applications (in addition to integrations with on-premise and legacy applications).
Thanks to this IPaaS, BeCloud is able to integrate Whatsapp for Business directly into Salesforce CRM pages and objects.
In this way, BeCloud will be the Whatsapp Message provider and, thanks to Web services endpoint and API, Be360° platform, willroute the message directly in the Salesforce pages.

Seamlessly Surface Support Channels in a Single View
Thanks to BeInContact, the 100% Omnichannel Customer Engagement Platform and Salesforce you can connect your mobile, landline or toll-free numbers, to a WhatsApp Business account and manage your profile directly from the platform. Using WhatsApp together with all other digital channels allows you to maximize the agent experience, avoiding the management of different channels on multiple systems.
INBOUND
Customer Service– Problem Solving– Ticket Management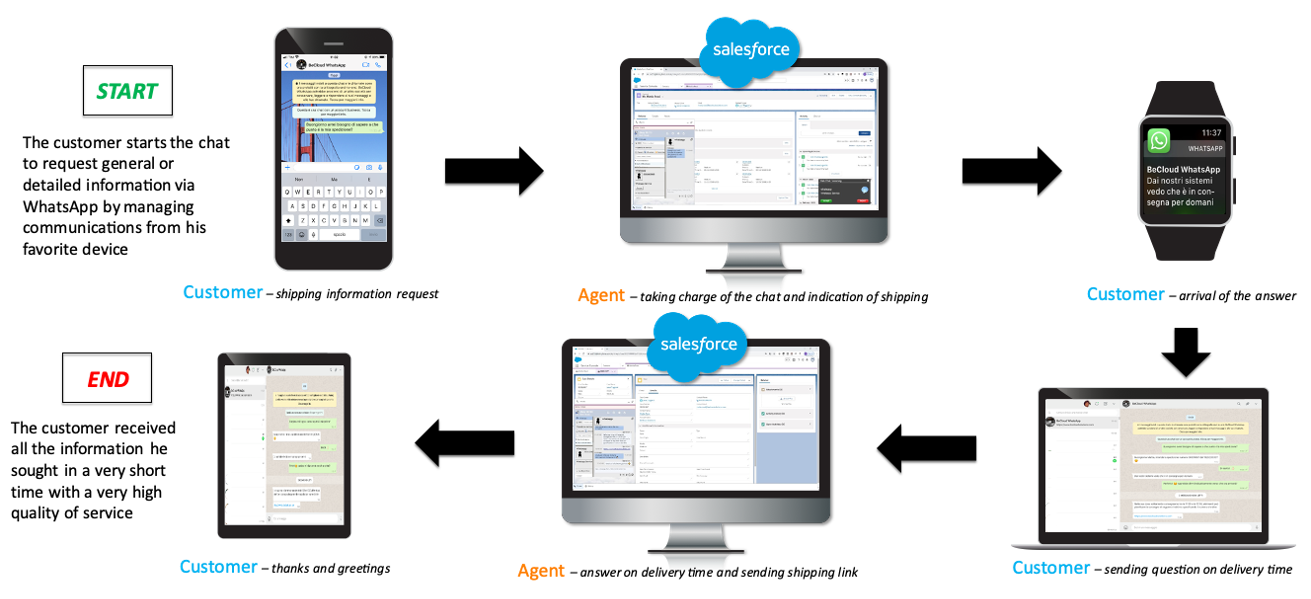 OUTBOUND
Notifications – Reminders – Appointments – Informations